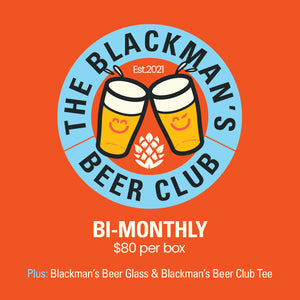 BLACKMAN'S BEER CLUB - BI MONTHLY - WITH TINNIE HOLDER!!
Let's make it official and join the family for NEW beers....
WHAT IS IT?
The BI-MONTHLY Beer Club Box contains epic 16 Can case of Beer delivered to your door… This is a case every second month for 12 moths. How rad!
New Beers!

Either 2 x 4 packs of new Blackman's seasonals or Beer Club Exclusives each month
2 x 4 packs of Core Blackman's Beers

BI-Monthly Blackman's Family Members also receive: 

Blackmans Tinnie Holder
A Free Birthday Pint!
A Free pot at every new beer launch in Blackman's Brewery venues
An invitation to 2 exclusive Beer Club events in 2023
10% discount in all of Blackman's Venues
10% discount in our online Beer Shop for the duration of your subscription
BI-Monthly $80 + plus postage (free local delivery) - (6 payments in 12 months)
Every new subscription gets a Blackman's tinnie holder 
** 🙂 WHEN MAKING PAYMENT PLEASE USE A DEBIT/CREDIT CARD AS  CURRENTLY OUR REOCCURING BILLING SYSTEM IS UNABLE TO FACILITATE PAYMENTS MADE VIA AFTERPAY, PAYPAL, SHOP PAY, APPLE PAY OR GOOGLE PAY 🙂 **