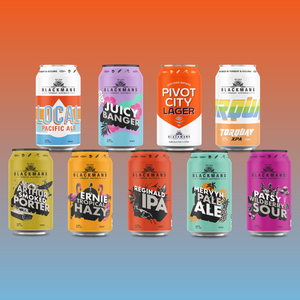 BLACKMAN'S CORE SAMPLER - MIXED 16 PACK
Blackman's Core Range Sampler
Welcome to Blackman's Core Range Beers, where we invite you to discover the true essence of our brewery in a box! At Blackman's, we are passionate about crafting exceptional beers that embody the perfect balance of flavour, quality, and craftsmanship. 
This box features 16 x 375ml cans:
Hey, just a heads up: this mixed pack can only be bought online (for delivery or pick-up from Grovedale) and can't be snagged directly from Torquay and Ocean Grove. We'll try our best to give you exactly what you see, but sometimes we might have to switch up the beers depending on what's in stock.